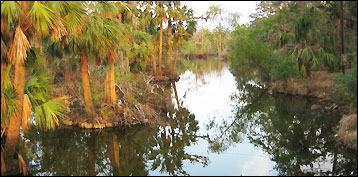 More
Bayous
tips and insights

Cajun ancestry
The ancestors of the Cajuns were Acadians, people of French descent who lived in Nova Scotia, Canada. In 1755 the British began to kick them out and many eventually relocated to the remote Louisiana bayous.

Cajun culture
Cajun music is folk, energetic and a treat. Visit a local nightspot that features it. The star of Cajun cuisine is the crawfish (looks like a tiny lobster). The area has many crawfish festivals and restaurants specializing in cooking that crustacean.

Creation
Bayous are created by river delta systems (in the case of Louisiana, the Mississippi's). They empty into the Gulf of Mexico.

Geography
The bayous stretch along the Gulf of Mexico west to east from Houston, Texas to Mobile, Alabama. The Louisiana bayous lie between those two states. You will generally find the most interesting bayous in Louisiana even though Houston is nicknamed the "Bayou City".
Learn More

for Bayous tips - Page 1
Learn my other
America tips & insights
America Wonders - Complete list
America wonder map
Top 10 Famous American foods

Photo by Infrogmation - CC BY 2.5

World's Top 100 Wonders
World's Top 1000 Wonders
Site map
My credentials
About my website and criteria
Reader testimonials