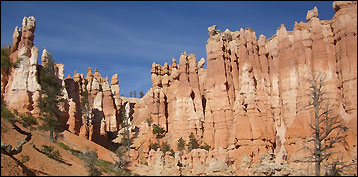 More
Bryce Canyon
tips and insights

Views
On a clear day, you can see terrain over 150 kilometers (90 miles) away. At night, it's a stargazer's dream, thanks to the isolated location, the exceptionally clean air, and the 2400 meter (8000 feet) altitude.

Trails
Hikers, both experienced and inexperienced, have many trails to enjoy, including some heading down to the canyon floor. Come winter, cross-country skiers and snowshoe enthusiasts inherit the footpaths.

Origin
Wind, water and ice have been sculpting Bryce Canyon for millions of years - and will continue to do so for eons to come.

Name
It is named for the 19th century Mormon settler Ebenezer Bryce. Whether he actually uttered the well-known quote "hellavu place to lose a cow" regarding the canyon is open to debate.
Learn More

for Bryce Canyon
Learn my other
America tips & insights
America Wonders - Complete list
America wonder map
Top 10 Famous American foods

Photo by Poco a Poco - CC BY-SA 3.0

World's Top 100 Wonders
World's Top 1000 Wonders
Site map
My credentials
About my website and criteria
Reader testimonials