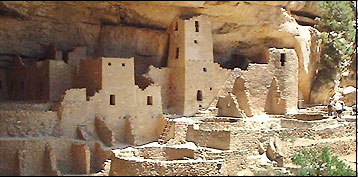 More
Mesa Verde
tips and insights

Tours
You may enter a cliff house only on a ranger-led tour. They are available during warm weather months for the Cliff Palace and Balcony House. Square Tower House is off limits.
Note that these tours can be strenuous because of the high altitude (2400 meters or 8,000 feet). Moreover, they are not for the acrophobic, claustrophobic, or unsure-footed. You climb tall ladders and sharply inclined steps - and walk by deep drop offs - and sometimes crawl through snug tunnels.

Tickets
Tickets are sold at the Visitor Center on the day of the tour. In summer, line waits can be long and tickets go fast - get there early. Remember, Mesa Verde attracts 600,000 visitors per year.

Name
The Spanish explorers named this region Mesa Verde ("green mesa") because unlike most mesas, its flat-topped elevated terrain is well forested.

Tribe name
Archaeologists originally called the inhabitants the "Anasazi". Today, the preferred name is "Ancestral Pueblo People" or, more simply, "Ancient Puebloans".
Learn More

for Mesa Verde tips - Page 1
Learn my other
America tips & insights
America Wonders - Complete list
America wonder map
Top 10 Famous American foods


World's Top 100 Wonders
World's Top 1000 Wonders
Site map
My credentials
About my website and criteria
Reader testimonials