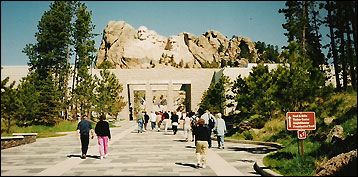 More
Mount Rushmore
tips and insights

Waist-up sculptures
Originally, Borglum wanted the statues to be from the waist up. Unpredictable funding forced him to scale back his dream.

Slowly eroding
Nature is eroding the stone art, but at a rate of just one inch deep per 10,000 years.

Sun light
The location was chosen in part because it faces southeast, which is ideal for catching the sun light.

Other activities
Visit the interesting studio, which has exhibits depicting how the wonder was constructed. On summer nights, take in the light show.

Visitor count
About 3 million tourists visit Mount Rushmore annually. During busy summer days, over 20,000 visitors drop by.
Learn More

for Mount Rushmore tips - Page 1
Learn my other
America tips & insights
America Wonders - Complete list
America wonder map
Top 10 Famous American foods

Photo by Matros - CC BY-SA 3.0

World's Top 100 Wonders
World's Top 1000 Wonders
Site map
My credentials
About my website and criteria
Reader testimonials