Times Square at night
Travel tips you can trust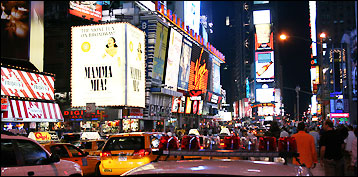 More
Times Square at night
tips and insights

New Year's Eve
The world's most famous New Year's Eve celebration takes place every year in Times Square. Some 750,000 revelers pack the space. A billion people around the globe watch the event on TV. One minute before midnight a giant lit ball begins its slow descent down a pole. When it reaches the bottom, it's midnight and the crowd roars while confetti falls and fireworks soar.

Thinking of attending?
Before you decide to go, keep these five factors in mind:

There are no tickets for this mass street party held every New Year's Eve. It's a free first-come, first-accommodated affair.

You have to arrive by early afternoon to stake out a decent viewpoint.

You will be literally corralled in a fenced-in outdoor standing area until midnight in cold winter weather.

There are no toilets and drinking alcohol is illegal.

If you leave, you won't be allowed to return.

Among other isssues.
Still, for some it will be a memorable experience, one that they would not want to miss.

Peronal messages
You can pay to put your photo or message up on a huge digital billboard. Some men use them for surprise marriage proposals.
Learn More

for Times Square at night - Page 1
Learn my other
America tips & insights
America Wonders - Complete list
America wonder map
Top 10 Famous American foods

Photo by Stefan Schulze - GNU 1.2

World's Top 100 Wonders
World's Top 1000 Wonders
Site map
My credentials
About my website and criteria
Reader testimonials