How to identify
penguins
page 2
Click FIRST PAGE for Chinstrap, Gentoo, Adelie, and Rockhopper penguins.
Macaroni, Emperor,
and King penguins

Macaroni
These weird-looking penguins are related to the rockhoppers. Like them, they have grasping feet, allowing them to climb precipitous, rugged slopes to reach their high-cliff nests. South Georgia Island is a popular breeding ground.

Emperor
They're the world's largest and most famous penguin (they starred in the documentary hit, "March of the Penguins"). You could possibly see them, but the chances are low because their breeding grounds are distant from standard Antarctica cruise routes.

King
They are closely related to the Emperor penguins, but are smaller and greater in number. Viewing opportunities are good on South Georgia Island, but not on the Falklands and in the Antarctica Peninsula.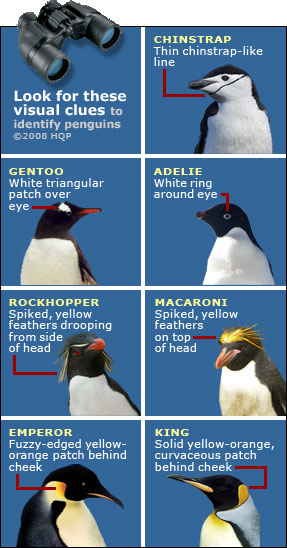 To learn about the
Chinstrap, Getoo, Adelie,
and Rockhopper penguins, click
FIRST PAGE - Chintrap & 3 other penguins


Best 3 Antarctica cruise ships
When to go
Who should go - and not go
Small versus big ship
Itineraries
Costs
What-to-pack checklist

Zodiac landings
How to identify penguins
Antarctica history in brief
Interesting facts & tidbits
Glossary
More pointers
Photo gallery

Top 10 experiences
Suite photos
Deck plans
Onboard enrichment
Dining & entertainment
Other onboard activities
Silver Explorer ship

Antarctica Cruise - Home page
Top 10 wonders of Antarctica

World Wonders - Top 100 rankings
World Wonders - Top 1000 list
My credentials
About my website and criteria
Reader testimonials
Site map


World's Top 100 Wonders
World's Top 1000 Wonders
Site map
My credentials
About my website and criteria
Reader testimonials