Best time to visit
Amsterdam
advice you can trust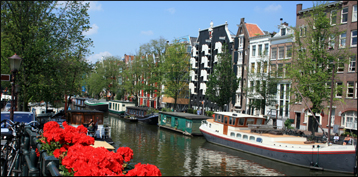 Amsterdam -
The best and least
desirable times to visit
Insights you need to know

Best times
April and May
Weather is pleasant (though it can be nippy in early April).
The prime time for visiting is during the tulip blooming period. It usually occurs sometime between late April and early May. The exact span depends on Mother Nature's whims. The ultimate tulip-viewing location is at the world-acclaimed Keukenhof Gardens (a short drive from Amsterdam).
June to September
Hotel prices and the tourist count are high, but unlike most cities, the temperatures are comfortable, even in July and August.

Least desirable times
November to February
Days can be chilly and occasionally so cold that you can ice skate on the canals. Daylight sightseeing time is short. It's the rainy season. But on the positive side, tourist crowds have thinned, hotel prices have dipped, and Amsterdam's acclaimed cultural season is in full swing.

Another insight
Weather extremes
Amsterdam suffers less extremes in weather conditions than most other European tourism cities.

Know when go to
and not go to other
travel destinations
Click More best and least desirable times
Learn my other
Holland tips & insights
Holland medal winners
Aalsmeer Flower Auction
Dutch Canals
Dutch Dikes
Dutch Windmills
Holland Cheese Markets
Holland Museums
Keukenhof Gardens
Madurodam Miniature Vllg
Royal Palace - Amsterdam
Also read
Top 3 Holland Wonders
Dutch phrases for travelers
Canal photo by Abeeeer - CC BY 2.0

World's Top 100 Wonders
World's Top 1000 Wonders
Site map
My credentials
About my website and criteria
Reader testimonials