Hanging Monastery
China travel tips you can trust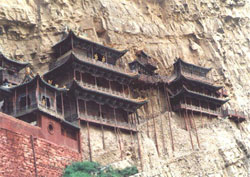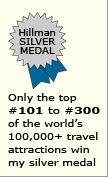 Why the
Hanging Monastery
is special
The pavilions of this monastery breathtakingly cling to a sheer cliff, as if they are hanging. There is no other travel site quite like it.
Hanging Monastery
tips & insights

Height
The pavilion on the right in the photo is the equivalent of 15 stories above the ground.

Construction history
The monastery dates back over 1400 years to the Northern Wei Dynasty. However, most of what you see today are reconstructions made during the Ming (1368-1644) and Qing (1644-1911) Dynasties.

Construction techniques

Materials
The pavilions are constructed almost entirely of wood (except for the decorative multi-hued roof tiles).

Structural supports
The pavilions "hang" partially because long timber poles support them from underneath (see photo). However, the greatest structural support comes from unseen rock ledges upon which parts of the pavilions sit - and from the cantilevered wooden beams deeply imbedded into the cliff.

Skyways
Narrow, thin railed skyways connect the pavilions.

Expansion
The monks expanded the size of the pavilions by digging caves in the cliff behind them.
Learn More

for next Hanging Monastery page
Learn my other
China tips and insights
Wonders of China - Top 10 rankings
China Wonder location map
Chinese cuisine guide
Basic Chinese phrases with pronunciations

World's Top 100 Wonders
World's Top 1000 Wonders
Site map
My credentials
About my website and criteria
Reader testimonials