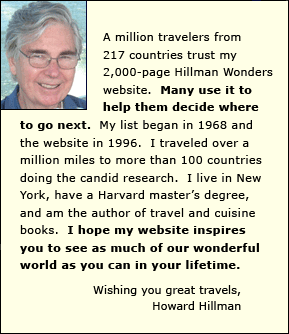 More
Shouxi Lake
tips and insights

Ge Garden
Yangzhou's other famous garden spot is Ge Garden. It was privately owned by a salt merchant and epitomizes the Yangzhou garden style even more than does Shouxi Lake. Its rockeries are exceptionally outstanding.

Size
Shouxi Lake is slightly over 4 kilometers (2.5 miles) in length.

Name
Shouxi Lake means "Slender West Lake". This is a competitive reference to the roundish West Lake in Huangzhou (also a Hillman Wonder).

Nearest major city
Yangzhou is about 150 kilometers (90 miles) northeast of Nanjing, the capital of Jiangsu province.
Learn More

for first Shouxi Lake page
Learn my other
China tips and insights
Wonders of China - Top 10 rankings
China Wonder location map
Chinese cuisine guide
Basic Chinese phrases with pronunciations

World's Top 100 Wonders
World's Top 1000 Wonders
Site map
My credentials
About my website and criteria
Reader testimonials