Tian Tan Buddha
China travel tips
you can trust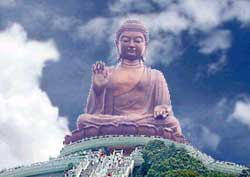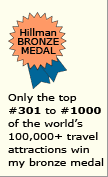 Why
Tian Tan Buddha
is special
This enormous copper Buddha statue - nearly as high as a 10 story building - serenely sits on a mountain top overlooking the land and sea far below.
Tian Tan Buddha
tips and insights

How to pronounce
Tian Tan:  tee'ahn-tahn

When to come
Choose a reasonably clear day for your visit. Otherwise, clouds might obscure the panoramic vista below and the head of Buddha above.

Construction
The statue took 10 years to build and was completed in 1993.

World's tallest?
Some travel books call the figure "the world's tallest seated outdoor Buddha statue". That would be true if you insert the word "copper" (the seated Leshan Buddha stone statue in Sichuan province is almost three times as high).

Other name
The Tian Tan Buddha is sometimes called the "Po Lin Buddha" because it is part of the Po Lin Monastery.
Learn More

for next Tian Tan Buddha page
Learn my other
China tips and insights
Wonders of China - Top 10 rankings
China Wonder location map
Chinese cuisine guide
Basic Chinese phrases with pronunciations

World's Top 100 Wonders
World's Top 1000 Wonders
Site map
My credentials
About my website and criteria
Reader testimonials