Dubrovnik Old Town
page two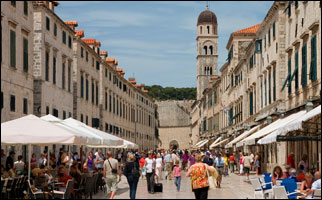 More
Dubrovnik Old Town
tips and insights

How to pronounce
Dubrovnik = due-brove-nick

Costly
Be prepared. Dining, drinking, accommodations, souvenir shopping, and other common vacation expenses are typically higher than in similar Mediterranean resort ports. And a high percentage of attractions (including museums and historical buildings) charge hefty admission fees.

Slippery
Wear good-traction shoes when it rains because the time-smoothed stones become slippery.

Summer Festival
Music, dance, theatre and other cultural performances take place from mid-July through late August. This festival is widely known.

Beaches
The nearby coastal area has a number of beaches. They can be fun, but unfortunately, they are typically pebbled, not sandy - and can be packed during peak tourist periods.

War damage
In 1991, the Dubrovnik Old Town was shelled over several months during the Balkan conflict.

Cruise ship docking
Cruise ships either dock (about 15 minutes from Dubrovnik Old Town) or tender their passengers into and out of Old Port (see page one).
Learn More

for first Dubrovnik Old Town page
Know these Croatia tips and insights
Dubronik
Old Town
Hotel tips
Photo gallery
Other Croatia wonders
Diocletian Palace
Hvar Old Town
Plitvice Lakes
Trogir
More pages
Croatia Wonders - Top 5 rankings
Basic Croatia phrases
Photo by Jimmy Harris - CC BY 2.0
Croatian National Tourist Board

World's Top 100 Wonders
World's Top 1000 Wonders
Site map
My credentials
About my website and criteria
Reader testimonials