InterContinental
Hong Kong Hotel
photos and guest comments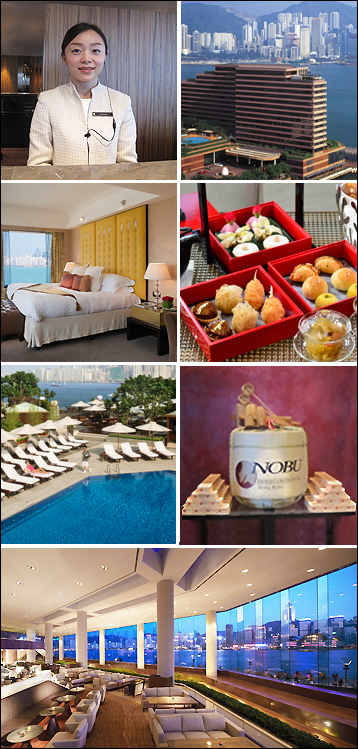 Top 5 reasons why
guests like the
InterContinental Hong Kong
Hotel

I informally surveyed my fellow guests staying at the Intercontinental Hong Kong to learn why they like it. These five reasons stand out:

Spectacular view
The InterContinental has breathtaking unobstructed view of bustling Hong Kong Harbour and soaring skyscrapers. You enjoy this vista from the hotel's lobby lounge (see photo above) and from many guest rooms.

Great dining
You can dine in the world-acclaimed Nobu sushi resaturant, in Alain Ducasse's refined French restaurant Spoon, and in the gourmet Cantonese restaurant Yan Toh Heen. And the Chinese afternoon tea (see photo) is special.

Attractive rooms and suites
All are smartly and comfortably appointed.

Commendable service
The staff is well trained and naturally hospitable.

Quiet, relaxed setting
The hotel has excellent sound proofing and is set off from Hong Kong's busy traffic and street life.
For more hotel information
Click link below to go directly to the hotel's website:
Also read these pages
Hong Kong wonder guide
Hong Kong restaurants and shops
Wonders of China - Top 10 rankings
China Wonder location map
Chinese cuisine guide
Basic Chinese phrases with pronunciations
World's Top 100 Wonders
World's Top 1000 Wonders
Site map
My credentials
About my website and criteria
Reader testimonials
Photo credits: Hotel montage ©2015 HQP / Hillmanwonders.com. The first and sixth photos are mine, the other four are used with permission from the InterContinental Hotel Group.