Interesting Iceland
facts and tidbits
page 3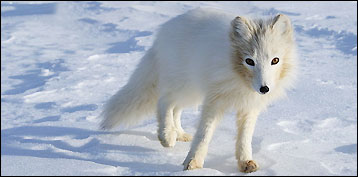 Some more
Iceland facts and tidbits

First human inhabitants
Some scientists believe that they were 9th century Irish monks, not the Vikings, who arrived a half century or so later.

Population today
Iceland has 320,000 residents, 80% of whom live in Greater Reykjavik.
The nation's population density is exceptionally low. It's only three persons per square kilometer (one per square mile).

Wild animals
The Arctic fox (see photo above) was the island's only native animal when the settlers arrived in the 9th century. It had migrated long before from Greenland on ice.

How Iceland was formed
Eons ago, the Eurasian and North American tectonic plates began moving apart. This lessened the distance between the earth's surface and the hot spot magna chambers deep below. This in turn made it easier for the magna's lava to push upward to the surface. Over time, the lava created the Iceland land mass.

Is Iceland on the European
or North American continent?
Geologically, it's on both. Conventionally and culturally, Iceland is thought of being European.

Military
Iceland doesn't have an army, navy, or air force. The coast guard protects the nation.

Quick facts

Glaciers cover 11% of the country

Main religion: Lutheran (80%)

Tourism and fishing are the main industries

Reykjavik - Translates "smoke bay"

Reykjavik is the world's northernmost capital
Learn More

for first Iceland Facts/Tidbits page
Know these
Iceland tips and insights
Top 5 Wonders of Iceland
Best 5 day trip tours
Blue Lagoon
Car rental, bus, and taxi tips
Dining and party scene
Flights to Iceland
Geysir Geothermal Field
Gullfoss waterfall
Hotel tips
Ice & Fire flight
Iceland Excursions
Interesting facts and tidbits
Jokulsarlon Glacial Lagoon
More tips and insights
Most interesting hotel
Myvatn Lake Region
Thingvellir National Park
Vatnajokull Glacier
Photo by Algkalv - CC BY-SA 3.0

World's Top 100 Wonders
World's Top 1000 Wonders
Site map
My credentials
About my website and criteria
Reader testimonials