Top Wonders
of New Zealand
tips you can trust

Can you answer
my questions on the
Wonders of New Zealand?
---
Click blue links for
answers & photos

Fiordland National Park
What is its most famous fjord?

Rotorua Geothermal Area
Why does the land bubble and spout?

Waitomo Caves
What life lights up the ceiling?

Poor Knights Islands
Why does it appeal to divers?
Mount Cook is the New Zealand runner-up, but does not win a medal. Although it is indeed a striking peak and is the icon of New Zealand, there are many similar if not greater peaks elsewhere in the world. Mount Fuji is an example.
---
New Zealand
tips & insights
---
Two main New Zealand islands

North Island
It's renowned for warm-weather activities including swimming, snorkeling, diving, fishing, and yachting. Hillman Wonders: Roturua Geothermal Areas, Waitomo Caves, and (off shore) Poor Knights Islands.

South Island
Good for hiking and for seeing the awesome fjords and snow-capped mountains. Hillman Wonder: Fiordland (which includes the world famous Milford Sound).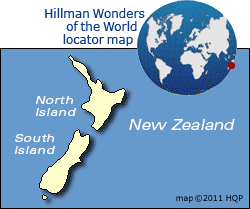 World's Top 100 Wonders

World's Top 1000 Wonders

Site map
---

---

---
Logo photo by Jame Ridem - CC BY 2.5, montage left photo by Thinboyfatter - CC BY 2.0, and right photo by John Radoff - CC BY 3.0
---