More dining venues
page 2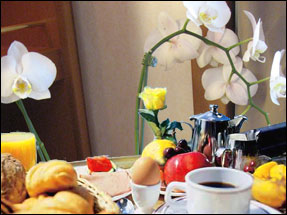 Room service
Don't forget you have a cruise dining venue in the privacy of your suite, either inside or on your balcony.

24 hours
You can order 24 hours a day off a room service menu.

Compass Rose dinner
When the Compass Rose is open for dinner, you can order using its food menu. Each course is spaced and delivered separately. This creates a leisurely cruise dining experience.

Breakfast
Breakfast room service is ideal when you have had a late night and your shore excursion leaves early in the morning. Ditto on your final-day disembarkation in the morning.
Learn More

for More Food Venues - Page
Learn my other
Regent Voyager tips & insights
Top 10 reasons to go
Entertainment
Dining
Other food venues
Service
Tours and enrichment programs
Suites
Spa and fitness
Other public spaces
More tips and insights
Click Regent Seven Seas Cruises
to vist the cruise line's website.

World's Top 100 Wonders
World's Top 1000 Wonders
Site map
My credentials
About my website and criteria
Reader testimonials