Rhine River cruise
page 2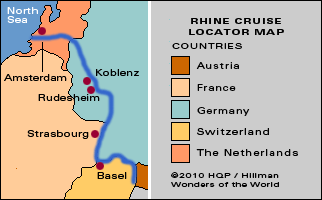 More tips & insights
on Rhine cruises

Best time to go
July and August are the two most popular months, though it can become quite hot - and small villages can become overcrowded with sightseers. June (especially its first half) is the best period. But smaller crowds, May and September are desirable. April and October can be nippy.

Best direction
Sail downstream. The ride is slightly smoother and travel time is significantly reduced.

Best side of the boat
Book the right side going downstream, the left side cruising upstream. Reason: The hot, glaring afternoon sun will strike the other side of the boat. This means:

Cruise lengths
They typically last from 5 to 10 days. The 14-day variety are Rhine-Danube combos.

More Rhine
pointers & tidbits

The landscape is flatter and less dramatic below and above the Middle Rhine region.

Riverboat cruise ships can sail upstream on the Rhine from the North Sea only as far as Basel, Switzerland. That's about 60% of the river's length.

Most boats carry between 120 to 200 passengers. Numbers and boat sizes are low because water levels and lock widths dictate it.

Most passengers are working professionals or retirees and are in the 45-to-75-age range (though there is a lower-age trend).

Quality cruise lines Amawaterways, Tauck, Trafalgar, Uniworld, and Viking attract a predominantly English-speaking clientele. Among German speakers, it's Peter Deilman.

The Rhine is a major European shipping thoroughfare, so you'll see numerous river cargo boats plying up and down the river. You also see pleasure boats.

The Mosel and Main Rivers are its two most noteworthy tributaries. A canal connects the latter to the Danube, creating the transcontinental Rhine-Danube combo cruise route.
Click button for my
other Rhine cruise tips


Nile
Yangtze
Kerala Backwaters
Rhine
Mekong
Amazon
Danube
Rhine-Danube Combo
Volga
Canal du Midi

World Wonders - Top 100 rankings
World Wonders - Top 1000 list
My credentials
About my website and criteria
Reader testimonials
Site map