Top 10
visually interesting
houses of worship
rankings you can trust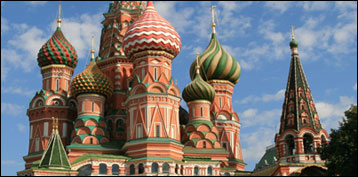 Top 10 rankings
Houses of worship
Criteria:

Visual interest to a tourist (it does not take into account cultural value, among other aspects).

It must be clearly active as a house of worship.

St Peter's Basilica


Great Mosque of Mecca


St Basil's Cathedral see photo


Blue Mosque


Gaudi's Sacred Family Church


Lotus Temple


Holy Sepulchre Church


Golden Temple


Chartres Cathedral


Shibaozhai Temple

Click blue links
to read my individual web page
on each of these houses of worship
Vatican City
Mecca, Saudi Arabia
Moscow, Russia
Istanbul, Turkey
Barcelona, Spain
New Delhi, India
Jerusalem, Israel
Amritsar, India
Chartres, France
Yangtze River, China
Here's a list of other houses
of worship that won a Hillman
Medal (gold, silver, or bronze)
Some venues are active as a house of worship, some no longer are.
I created a web page with photo and tips
for most of these wonders. Use the Google search box in the left column to find them.
Agora/Hephaestus Temple (Greece)
Amiens Cathedral (France)
Asakusa Kannon Temple (Japan)
Ayutthaya Temples (Thailand)
Badshahi Mosque (Pakistan)
Bagan Temples (Myanmar)
Basilica Notre Dame (Ivory Coast)
Brihadisvara Temple (India)
Byodo-in Temple (Japan)
Canterbury Cathedral (England)
Chartres Cathedral (France)
Chion-in Temple (Japan)
Church of the Spilt Blood (Russia)
Cologne Cathedral (Germany)
Dambulla Golden Temple (Sri Lanka)
Djenne Mosque (Mali)
Duomo Cathedral (Italy)
Edfu Temple (Egypt)
Frauenkirche (Germany)
Gebel Barkal Temples (Sudan)
Girnar Temples (India)
Haeinsa Temple (South Korea)
Hagia Sophia (Turkey)
Hatshepsut Temple (Egypt)
Holy Sepulchre Church (Israel)
Horyuji Temple (Japan)
Ibn Tulun Mosque (Egypt)
Jade Buddha Temple (China)
Jama Masjid Mosque (India)
Jokhang Temple (China)
Kanchipuram Temples (India)
Karnak Temple (Egypt)
Kiyomizu Temple (Japan)
Kom Ombo Temple (Egypt)
La Campania Church (Ecuador)
Lama Temple (China)
Lourdes (France)
Lungsham Temple (Taiwan)
Luxor Temple (Egypt)
Mahabalipuram Temples (India)
Mahabodhi Temples (India)
Melk Abby Church (Austria)
Mezquita of Cordoba (Spain)
Milan Cathedral (Italy)
Mohammed Ali Mosque (Egypt)
Mopti Mosque (Mali)
Nikko temples (Japan)
Nishi/Higash Hongan Temples (Japan)
Notre Dame Cathedral Paris (France) Pareshnath Jain Temple (India)
Philae Temples (Egypt)
Popchusa Temple (South Korea)
Prambanan Hindu Temple (Indonesia)
Pulguksa Temple (South Korea)
Rameswaram Temple (India)
Reims Cathedral (France)
Sainte-Chapelle (France)
Salisbury Cathedral (England)
San Vitale Basilica (Italy)
Santa Maria delle Grazie (Italy)
Santiago de Compostela (Spain)
Seville Cathedral (Spain)
Sheikh Zayed Mosque (Abu Dhabi)
Shibaozhai Temple (China)
St Mark's Basilica (Italy)
St Paul's Cathedral (England)
St Stephen's Cathedral (Austria)
Stave Churches (Norway)
Sultan Qaboos Grand Mosque (Oman)
Tanah Lot Temple (Indonesia)
Temple Mount (Israell
Temple of Dawn (Thailand)
Temple of Heaven (China)
Temple of Poseidon (Greece)
Temple of the Reclining Buddha (Thailand)
Tirumala Temple (India)
Todai-ji Temple (Japan)
Tournai Notre Dame Cathedral (Belgium)
Ulu Danu Temple (Indonesia)
Ulu Watu Temple (Indonesia)
Umayyad (Syria)
Westminster Abbey (England)
Wielicska Salt Mine (Poland)
York Minster (England)
Zipaquira Salt Cathedral (Columbia)
See my other Top 10 lists
St Basil's photo by Bernt Rostad CC BY 2.0