Top 10 Venice
attractions
Travel tips you can trust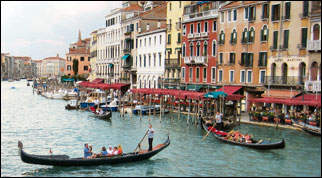 Test yourself
How many of
Venice's Top 10 attractions
have you experienced?
Venice's top 10
must see rankings

Canals of Venice


St Mark's Basilica & Campanile


Venetian Alley Maze


Doge's Palace


St Mark's Square


Rialto Bridge


Bridge of Sighs


Accademia Gallery


Murano Island


Vaporetto
Runners-up include Ca' Rezzonico, Clock Tower, Teatro La Fenice, and Rialto seafood & produce markets.
Candid tips for
Venice's Top 10 attractions

Canals of Venice

Gondolas are overpriced.

But take one if you have the money because the experience is memorable.

Short gondola rides are preferable as long ones are monotonous - and far more expensive.


St Mark's Basilica & Campanile

Highlights are the Basilica's facade, altar screens, and medieval mosaics.

The tour is free, but book in advance to skip the long waiting lines to enter the church (you can do it on the basilica's website for a nominal fee).

An elevator takes you to the top of this soaring Campanile bell tower for magnificent panoramic city views.

Avoid long queues by being there when the tower opens.


Venetian Alley Maze

You'll see the authentic, charming scenes that's void of tourists.

For safety reasons, do it in the day, not at night.


Doge's Palace

Grand Council Chamber is the leading attraction.

There are two Doge's Palace tours - Standard and Secret Itineraries. The first is top drawer, but the latter is better.

Buy your tickets as far in advance as possible because they go quickly.


St Mark's Square

It is one of the world's most famous urban public spaces

St Mark's Square is lined with architecturally rich building facades, including that of the renowned St Mark's Basilica (see above).


Rialto Bridge

This photogenic stone bridge has spanned the Grand Canal for over four centuries.

The nearby canal-side alfresco restaurants provide a ringside seat for watching the heavy canal boat traffic glide under the Rialto Bridge.

Bridge of Sighs

It connects the Doge's Palace with its dungeons across a narrow canal.

Legend tells that prisoners sighed (hence the name) when they looked out the bridge's windows as they were led to their dark cells. They knew it would be the last daylight they would ever see.

Accademia Gallery

This museum boasts a treasure trove of Venetian masterpieces spanning several centuries.

Major artists include Titian, Giorgione, and the two Bellinis.

Murano Island

This nearby Venetian island is world renowned for its glass blowers.

Watch glass-blowing demonstrations.

Quality was once superb, but today it's typically sub-prime geared for visiting tourists.

Vaporetto

Use this full-of-character water bus boat as you would a bus or subway back home.

The number 1 or 2 line gives you up-close views of the celebrated Grand Canal building facades.

Best Venice website

Anyone planning to visit Venice should read Venice for Visitors. This website is filled with gutsy tips that travelers appreciate. I recommend it.
Learn More

for my Venice facts & tidbits page


for Venice transportion/hotel page
Photo by Robert Low - CC BY-SA 2.0

World's Top 100 Wonders
World's Top 1000 Wonders
Site map
My credentials
About my website and criteria
Reader testimonials