Torres del Paine
Travel tips you can trust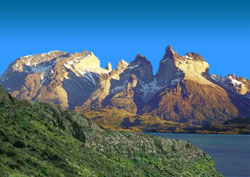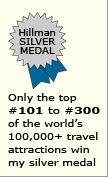 Why the
Torres del Paine
National Park
is special
It has spectacular mountains, photogenic lakes, thick glaciers, dense forests, and cascading waterfalls – and riveting trails for hiking and challenging peaks for climbing. Part of the allure for Torres del Paine visitors is being in a remote, not easy to reach location in the Patagonian Andes near the tip of South America.
Most famous sights
of Torres del Paine

Cuernos del Paine
"Horns of Paine"
It is a visually stunning mountain group (see photo). The view of the peaks is outstanding from the Pudeto lookout, a four hour round trail hike on moderate difficulty.

Torres del Paine
"Towers of Paine"
Several closely situated granite peaks resembling tiger's teeth dramatically soar about a kilometer (over a half mile) into the sky. The national park gained its name from them. Viewing requires an eight hour round trip hike.
Torres del Paine
tips and insights

Exploring the park
You can do it by vehicle or by hiking the trails. The latter method offers the best vistas. Hikes range from day trips (some are easy) to 5 to 9 day treks encircling the core mountains.

When to come
Best period is during the southern hemisphere summer (December to March). Winter brings bitter cold, fierce winds, heavy snow, and limited daylight hours.

Global warming
Sadly, the once expansive glaciers have been receding during the past 100 years. At least there is one benefit: More of the beautiful rocky landscape is being exposed.

Wildlife
Major wildlife includes the guanaco (related to the llama) and the mountain lion puma.

Before the national park
Before the Chilean government created the national park, cattle and sheep ranchers deforested large areas for pasturage, which spoiled natural beauty. Today, trees have regained much of the land.

Getting to and staying
in Torres Del Paine
The normal routing for international visitors is to fly to Chile's capital, Santiago. Then, fly south to Punta Arena (3 hours). Then, drive north to Puerto Natales (4 hours) for an overnighter in this tourist friendly town. Next morning, drive northwest to enter the park (3 hours). Park accommodations range from humble trail shelters to nationally rated five-star hotels.

Location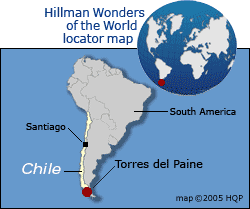 World's Top 100 Wonders
World's Top 1000 Wonders
Site map
My credentials
About my website and criteria
Reader testimonials