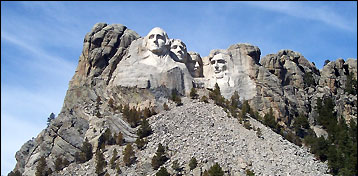 More
Mount Rushmore
tips and insights

Best viewpoints
Besides observing the figures from a distance at the popular Grandview Terrace, you can hike up the Presidents' Trail for a closer view.

Major players

Guston Borglum
Belgian sculptor Guston Borglum conceived the project. Sometimes his temperamental ego hindered the undertaking, but he also provided the driving creative force that made the difficult mission possible.

Ziolkowski
Guston Borglum fired an assistant named Ziolkowski, who went on to begin chiseling a gigantic monument of the Sioux warrior Crazy Horse out of a nearby mountain (it is still in the works).

Project history in brie
The task spanned 14 years:
1927 – Work begins
1934 – First bust finished.
1939 – Last one dedicated.
1941 – Borglum passes away.
1941 – Son finishes project
Learn More

for Mount Rushmore tips - Page 3
Learn my other
America tips & insights
America Wonders - Complete list
America wonder map
Top 10 Famous American foods


World's Top 100 Wonders
World's Top 1000 Wonders
Site map
My credentials
About my website and criteria
Reader testimonials