Kakadu
Travel tips you can trust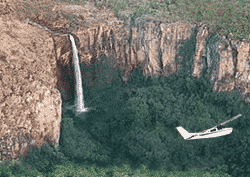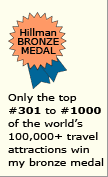 Why
Kakadu National Park
is special
Kakadu in northern Australia is a huge national park known for its rich diversity of vegetable, wildlife, landscapes, eco-systems, and seasonal climates - and for its stunning Aboriginal rock art.
Kakadu
tips and insights

Top Attractions
Kakadu draws hundreds of thousands of visitors per year. The top 3 tourist favorites are:

Saltwater crocodiles
Many adults are 4 to 5 meters (13 to 16 feet) in length. Some have killed unsuspecting tourists. No need to be alarmed if you adhere to the signs warning you not to swim in certain lakes, pools and rivers where the dangerous crocs lurk. You should not even walk close to the signed shorelines - submerged crocs can spring out of the water faster than you can react.

Aboriginal rock paintings
Some date back to the ice age. Many ancient drawings look fresh because they have been restored through the centuries by the Aborigines of Australia. It's essential to them to keep their narrative art alive so that future generations can learn their Aboriginal heritage.

Yellow Water Billabong
A boat cruise on this lake brings you up close to the wildlife (including the saltwater crocodile) and the scenic mangrove-forest waters.
Other popular activities include waterfall viewing, bird watching, hiking, camping, flightseeing, and uranium mine touring.

Location in Australia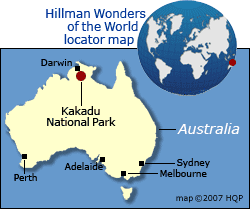 Learn More

for Kakadu National Park - Page 2
Learn my other
Australian tips and insights
Wonders of Australia - Top 10 rankings
Australian Wonders - Map
Learn Australian slang
Australian Cuisine

World's Top 100 Wonders
World's Top 1000 Wonders
Site map
My credentials
About my website and criteria
Reader testimonials