Lord Howe Island
Travel tips you can trust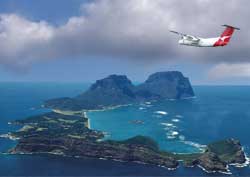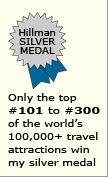 Why
Lord Howe Island
is special
The remote, alluring and semi-tropical Lord Howe Island of Australia is heaven for nature lovers - and for vacationers seeking a reprieve from their hectic lives back home.
Lord Howe Island
tips and insights

Imagine an unspoiled island ...
that has all of the following and you would be thinking of Lord Howe Island.

Natural beauty
It boasts a crystal-clear turquoise lagoon, golden sand beaches, and magnificent coral reefs.

Striking landscapes
They include twin misty volcanic peaks commanding one end of Lord Howe Island - and a natural forest that blankets most of this gem of Australia.

Uncrowded
There are only 350 residents and just 400 visitors are allowed on the island at any given time.

Peace and tranquility
The Lord Howe Island lifestyle is casual and uncomplicated - there are few cars and no traffic (bicycles and feet are the principal modes of transportation) - and there is purposely no cell phone reception.

You don't have to rough it
There are comfy small lodges, bungalows, and guest
houses on Lord Howe Island.
Many activities await you including, swimming, surfing, snorkeling, diving, fishing, hiking, golfing, bird watching, and glass-bottom boating.
Location in Australia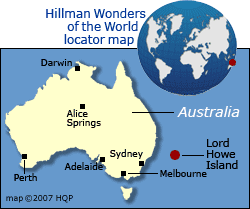 Learn More

for Lord Howe Island - Page 2
Learn my other
Australian tips and insights
Wonders of Australia - Top 10 rankings
Australian Wonders - Map
Learn Australian slang
Australian Cuisine

World's Top 100 Wonders
World's Top 1000 Wonders
Site map
My credentials
About my website and criteria
Reader testimonials