Sydney Opera House
Travel tips you can trust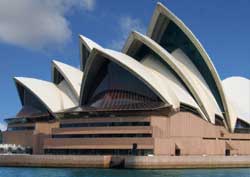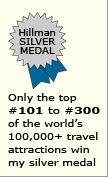 Why the
Sydney Opera House
is special
The distinctive and striking architectural design of the Sydney Opera House in Australia remains remarkably fresh and vibrant decades after it was built in 1973.
Sydney Opera House
tips & insights

Design
It was conceived by a relatively unknown Danish architect named Jorn Utzon. He won a design competition against 200 contenders from over two dozen countries.

Striking roof
His gracefully curvaceous roof shells are often described as billowing spinnaker sails in a strong ocean breeze.

Criticism
Initially, many locals disliked his design, using derogatory words like "horrendous". Today, it is a pride of the city and Australia.

Changing horses
in midstream
Before the interior was done, Utzon was kicked off the project. Cultural politics played a part. The design was taken over by a committee. You know the usual outcome: foot-dragging and uninspired results.

Today
The interior of the Sydney Opera House is being refurbished. This time, Utzon is taking a major role.

Location in Australia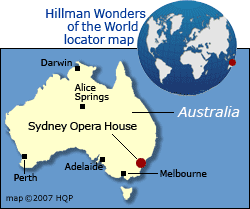 Learn More

for Sydney Opera House - Page 2
Learn my other
Australian tips and insights
Wonders of Australia - Top 10 rankings
Australian Wonders - Map
Learn Australian slang
Australian Cuisine

World's Top 100 Wonders
World's Top 1000 Wonders
Site map
My credentials
About my website and criteria
Reader testimonials