Mistakes Hawaiian
resort guests make
page 3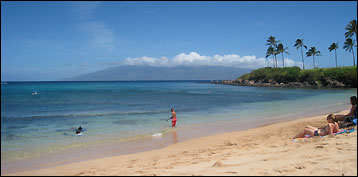 Some other
common mistakes
Hawaiian resort guests make

Trusting the brochure photo
of the pool
Some resorts use trick photography to make the pools appear larger. And pool photos never show crowded conditions, which is often the case. And some resorts have insufficient pool lounge chairs to accommodate all their guests. You need to go to the pool in the early morning to stake out lounge chairs.

Thinking that the beach in front
of the resort is private
Hawaiian resorts seldom have exclusive beach rights (except for the umbrella-and-lounge-chair area near its property line). Non-guests can simply walk along the beach and plop their blanket down on the sand directly in front of the resort's set up.

Not using the concierge desk
for restaurant reservations
Its staff can sometimes get you a reservation in a "completely booked" restaurant in or outside the resort. And, it can help you get a good table.

Not taking your unresolved
complaint or unfulfilled request
to the assistant manager
On some issues, the front desk staff isn't empowered to take the necessary action you seek. Rather than taking its "no" as the final answer, walk over to the assistant manager's desk. The staffer sitting behind that desk has more power to help you.

Not realizing that prices in
Hawaii are on average higher
than in other states
Yes, items like pineapples are cheaper. But many items (including certain foods and construction materials) have to be imported from sources thousands of nautical miles away. This increases resort rates.
Learn more guest mistakes

for Mistakes Guest Make - Page 1
Learn my
Hawaiian tips and insights
Best Hawaiian resorts
Links to all luxury resorts
Mistakes resort guests make
The islands' best cruise lines
The islands' cuisine
The island's volcanoes
Hawaii Visitors & Convention Bureau

World's Top 100 Wonders
World's Top 1000 Wonders
Site map
My credentials
About my website and criteria
Reader testimonials