Baffin Island
Travel tips you can trust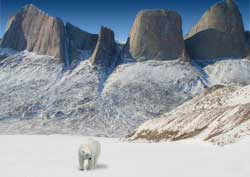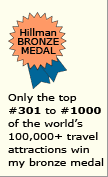 Why
Baffin Island
is special
This remote land in northern Canada has a spectacular arctic landscape that attracts adventure travelers.
Baffin Island
tips and insights

Auyuittuq National Park
It is the leading destination for adventure travelers. This park, located in southwestern Baffin Island, is noted for its impressive mountain peaks. Rock climbers and base jumpers love the vertical-drop cliffs, which are as high as 1,200 meters (4,000 feet).

Auyuittuq National Inlet
This destination in northwestern Baffin Island is also popular with adventure travelers. The area offers pristine peaks, fjords and glaciers while the sea coast is home to whales and polar bears.

Size
Baffin Island is 1600 kilometers (1000 miles) long and is the world's fifth largest island.

Population
It has a population of about 10,000. Most residents are Inuits.

Far north
Two-thirds of Baffin Island lies north of the Arctic Circle. Consequently, that segment experiences 24-hour daylight around June and July and 24-hour darkness around December and January.

Location in Canada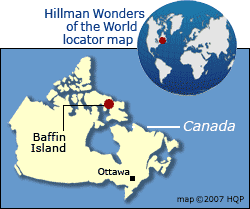 Learn More

for Baffin Island - Page 1
Learn my other
Canada tips and insights
Canada wonders - Top 10 rankings
Canada wonder map
Canadian cuisin
Canada Travel
Canadian Tourism Commission

World's Top 100 Wonders
World's Top 1000 Wonders
Site map
My credentials
About my website and criteria
Reader testimonials