Bay of Fundy
Travel tips you can trust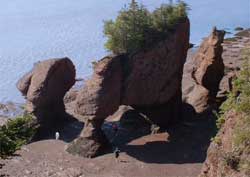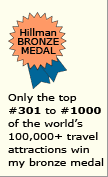 Why the
Bay of Fundy
is special
The differences between the low and high tides in the upper part of the Bay of Fundy in Canada can be as high as 17 meters or 56 feet. The year-round average is 11 meters or 36 feet.
Bay of Fundy
tips & insights

Size and geography
The Bay of Fundy is 430 kilometers (270 miles) long and lies between the Canadian provinces of New Brunswick and Nova Scotia.

Tides
The Bay of Fundy is tied with Ungawa Bay (farther north in Canada) for having the world's most extreme tides.
A full tidal cycle occurs twice a day, lasting approximately 12 hours. I recommend you spend at least one night in the Bay of Fundy area so you can observe the complete rise-and-fall phenomenon.

Reversing Falls
Also see the Reversing Falls near the city of Saint Johns in New Brunswick. The tidal water that rushes over rocks changes directions every six hours.

Hopewell Rocks
This destination is popular. Its tall, bizzarre red rock formations were sculpted over the eons by the rushing tidal waters. When the tide is in, you can walk on the ocean floor (see photo above). Six hours later, the beach and lower half of the vegetation-crowned rocks are underwater. You have to time your visit based on the tides.

Location in Canada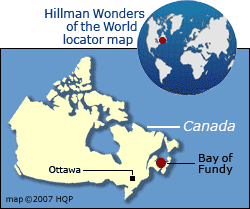 Learn More

for Bay of Fundy - Page 2
Learn my other
Canada tips and insights
Canada wonders - Top 10 rankings
Canada wonder map
Canadian cuisin
Canada Travel
Canadian Tourism Commission

World's Top 100 Wonders
World's Top 1000 Wonders
Site map
My credentials
About my website and criteria
Reader testimonials