Canadian Rockies
Travel tips you can trust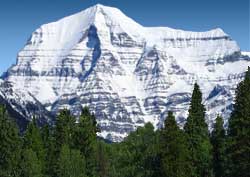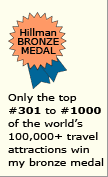 Why the
Canadian Rockies
are special
The Canadian Rockies are one of the world's most gratifying mountain vacation destinations.
Canadian Rocky Mountains
tips and insights

Sightseeing appeal
Visitors relish majestic snow-capped peaks, plummeting waterfalls, gushing brooks, emerald lakes, luxuriant meadows, and fresh pine-scented mountain air. And, there is a wealth of wildlife including bears, elk and eagles. The Canadian national and provincial parks in the area have helped conserve this precious environment.

Recreational appeal
Visitors to this pristine area of Canada also enjoy a host of recreational activities including hiking, boating, fishing and skiing.

Geography
The Canadian Rockies extend upward from lower Alberta to upper British Columbia province (see map below).
The range also physically extends southward, into Glacier National Park in the USA.

Canadian vs. USA peaks
Generally, the peaks of the Canadian Rockies are more rugged than their USA Rocky Mountain counterparts.

Location in Canada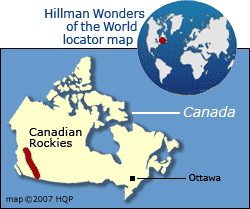 Learn More

for Canadian Rockies - Page 2
Learn my other
Canada tips and insights
Canada wonders - Top 10 rankings
Canada wonder map
Canadian cuisin
Canada Travel
Canadian Tourism Commission

World's Top 100 Wonders
World's Top 1000 Wonders
Site map
My credentials
About my website and criteria
Reader testimonials