Louisbourg Fortress
Travel tips you can trust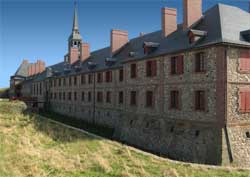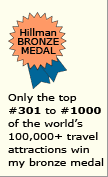 Why
Louisbourg Fortress
is special
The Louisbourg historic site has an impressively recreated 18th-century French fortress (see photo) and old town.
Louisbourg
tips and insights

French colony days
During that period, Louisbourg was a cod fishing, salting and preserving center - and a major seaport for trade with Europe, New England and the Caribbean.

Today
The recreated Louisbourg takes you back to 1744, a year before the British captured it from the French. That battle eventually helped the British gain control from the French of what is today eastern Canada.

Reconstruction
It began in 1961 and took over a decade to reach a substantive completion stage. Archaeological work continues today. The reconstruction deserves praise for its attention to authenticity. The architects and interior designers relied heavily on archaeological artifacts and historical documents.

A complex
of buildings
Louisbourg old town has dozens of buildings of various purposes, including homes, stores and workshops. They are open from spring to fall.

Location in Canada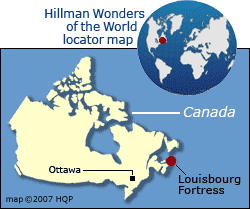 Learn More

for Louisbourg Fortress - Page 2
Learn my other
Canada tips and insights
Canada wonders - Top 10 rankings
Canada wonder map
Canadian cuisin
Canada Travel
Canadian Tourism Commission

World's Top 100 Wonders
World's Top 1000 Wonders
Site map
My credentials
About my website and criteria
Reader testimonials