Moroccan cuisine
Food tips you can trust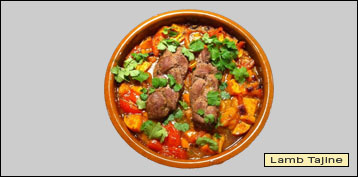 Famous
Moroccan foods

Couscous
It's the most internationally known Moroccan (and Magreb) preparation. Simply described, couscous is small pellet-sized "pasta" made from semolina flour. Couscous is plated under (or as a side to) a main dish.


Tagine
A stew steamed in a low, covered earthenware casserole of the same name.

Bisteeya
Thin rectangular sheets of pastry are layered with cooked pigeon meat, chopped almonds, egg sauce, cinnamon, and sugar. The sheets are then shaped into a disc and pan-fried until flaky and golden brown.

Harira
A hearty soup. Chunks of lamb are slowly simmered in a seasoned broth, then thickened with eggs. Harira is the traditional food for breaking the Moslem Ramadan fast each night.

Harissa (aka Hrisa)
Hot pepper sauce, served on the side in a bowl. Standard accompaniment to many dishes, including Tagines and Harira preparations.

Moroccan tea
ery sweet tea brewed with mint leaves. Often served with pastries and meals.
Also learn these
food tips and insights ...
Photo by An en Alain - CC BY 2.0
Moroccan National Tourist Office

Rankings
Peasant recipes
World wonders
Also read
Site map
About me and my credentials
About my website
Reader testimonials
Email me your opinion