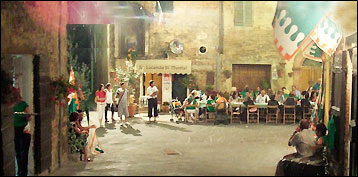 More Palio
tips and insights

Contestants
The contestants are the 17 contrades of Siena, each represented by a jockey and horse. The winning contrade is awarded a banner named Il Palio, which lends its name to the race.
Due to the limited space, only ten horses can enter each race. Ten contrades are selected to participate in the July 2 race. The seven left out are automatically entered for the August 16 race.
The horses for the remaining three slots in the August race are randomly selected from the 10 horses that ran in July. This means 3 contrades get to participate in both races

Spectators
An estimated 50,000+ standing spectators jam the piazza to watch the race. Admission is free, but you must arrive many hours before the race to find a spot.
About 2,000 spectators view the race from surrounding bleachers, balconies, terraces, and windows (tickets for those elevated viewing points are expensive and go fast).

Parade pageant
Each race is preceded by a 3-hour parade-pageant. Participants include costumed riders, walking banner-twirlers and rhythmic drummers.

Street banquets - see photo above
On the eve of the race, each contrade holds an outdoor banquet with rows of block-long community tables. Its purpose is to practice tomorrow's victory dinner (each contrade is thoroughly convinced its horse will win). These exuberant feasts are filled with camaraderie, music and copious food servings. Try to get an invitation.
Learn More

for Palio tips - Page 1
Read my other Italy pages
Wonders of Italy - Complete list
Italy wonder map
Basic Italian phrases
Italian cuisine
Best time to visit Rome
Photo by Louis-Garden - CC BY-SA 2.5

World's Top 100 Wonders
World's Top 1000 Wonders
Site map
My credentials
About my website and criteria
Reader testimonials