Safari tent
mistakes
Safari tips you can trust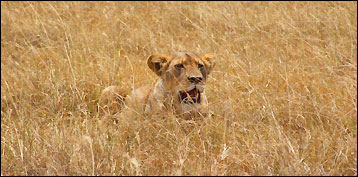 More
tented camp mistakes


Not realizing that
tented camps can
be luxurious

Mid-market tented camps
They are a world apart from a basic campsite. They are clean and comfortable - and the staff does all the chores (seldom so in basic tent camps).

Luxury tented camps
The tents are designer furnished, the service polished and professional, and the food well above par.


Being unfamiliar with
walking safari camps

A memorable happening
A walking safari is one of my favorite safari experiences - and you will probably relish one, too. Consider:

You're in the wild
As the name suggests, you hike in the wilderness populated with lions, elephants, and more. However, these outings are safer than they might seem.

Quality camping
Although you sleep in a traditional safari-style tent, they are large - and the bed is big and comfortable. Service and guide quality are luxury level.

Nightly encounter with nature
You smell the wilderness and hear the wildlife sounds at night in your tent. And sometimes passing four-legged visitors brush against your tent, magnifying the safari experience.
Learn More

for other tented camp mistakes
Learn the other
safari mistakes


Binoculars
Booking
Cameras
Clothing
Costs
Dining
Group tours
Guides and drivers
Health and safety
Learning
Tents
Timing
Transfers
Vehicle type
Top 10 mistake rankings


Top 5 safari destinations
Kenya vs Tanzania
What it's like on a luxury safari
Big 5 safari animal list
Animal facts & tidbits

World's Top 100 Wonders
World's Top 1000 Wonders
Site map
My credentials
About my website and criteria
Reader testimonials