Kruger National Park
page 2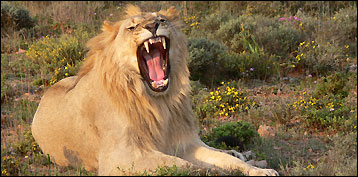 More
Kruger National Park
tips and insights

Visiting a
private reserve
The Kruger park guards will not let you enter a private reserve unless you have pre-booked accommodation reservations with it.

Other
accommodations
If luxury is beyond your budget, there are many alternatives, from no-frill camping sites to comfortable lodge within Kruger National Park

Park size
Kruger National Park is large. It measures 350 kilometers (220 miles) long and 60 kilometers (40 miles) wide.

Malaria
Like most African safari areas, Kruger is in a malaria-risk area. Take anti-malaria pills. This is particularly critical during the wet season (summer).

My 94-page
online Safari Guide
Click the link below to read its opening page. My web pages give you essentials on all the World's Top 5 Safari Destinations: Serengeti, Ngorongoro Crater, Kruger, Botswana, and Masai Mara. I also describe the mistakes safari-goers make and tell you how you to avoid them. And much more.
Learn More

for first Kruger page
Know my other
South Africa tips and insights
Kruger National Park
Table Mountain NP
Cape Town & environs
Drakensberg Mountains
Phinda
Kimberly Diamond Mines
Panorama Route
South Africa Wonder map
Honorable mentions
Country facts & tidbits
Big 5 safari animal photos
Most famous foods
Photo by Winfried Bruenken - CC BY-SA 2.5

World's Top 100 Wonders
World's Top 1000 Wonders
Site map
My credentials
About my website and criteria
Reader testimonials