Golden Buddha Statue
Travel tips you can trust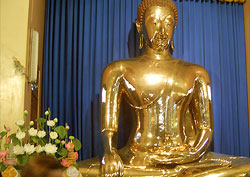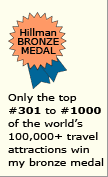 Why the
Golden Buddha Statue
is special
It has a fascinating history and staggering monetary value.
Golden Buddha Statue
tips and insights

Height, weight and value
The seated Golden Buddha in Bangkok is 3-meters (10-feet) high and weighs 12,000 pounds. At US$1,400 per troy ounce (the rate at this writing), the gold in the statue is worth $250 million dollars.

History in brief

13th century
The Buddha was cast in solid gold north of Bangkok during the powerful Sukhothai period.

18th century
The Golden Buddha was completely covered in plaster to make an invading army think it was a commonplace cement statue. The ruse worked, but too well. The secret was forgotten for centuries.

20th century
In 1955, while the "cement" statue was being hoisted into its new home, the rope apparatus failed and the sculpture heavily fell to the ground. The next day a surprised monk saw gold where a piece of the plaster had chipped off. The removal of the remaining plaster followed.

Security
Considering the Golden Buddha's whopping value, it is relatively unprotected. But whose going to steal a 5.5-tonne object sitting in an upper floor of the Golden Buddha Temple in the middle of a large city?

Location in Thailand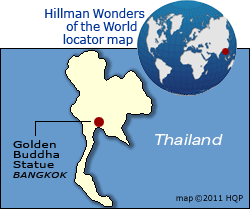 Know these Thailand tips and insights
In Bangkok
Floating Markets
Golden Buddha Statue
Grand Palace
Temple of Dawn
Temple Emerald Buddha
Temple Reclining Buddha
Beyond Bangkok
Ayutthaya Temples
Chiang Mai
Phanom Rung Hist Park
Prasat Hin Phimai
Phang Nga Bay
Phi Phi Islands
Phuket
Sukhothai Historical Park
More pages
Thailand wonders - Top 5 rankings
Thai cuisine - Famous dishes
Temple photo by Will Ellis - CC BY 2.0

World's Top 100 Wonders
World's Top 1000 Wonders
Site map
My credentials
About my website and criteria
Reader testimonials