Bagan
Travel tips you can trust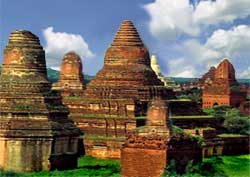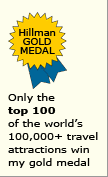 Why Bagan
and its temples
and pagodas
are special
Bagan (formerly Pagan) was built from the mid-11th to near the end of the 13th centuries, when it was overrun by Kublai Khan's invading forces.
Bagan
tips and insights

When Bagan
was at its peak
In its glory days, Bagan was a major Buddhist center and a thriving city of at least 300,000 people along the banks of the Ayeyarwady (Irrawaddy) River. The people erected over 10,000 pagodas and monasteries.

Today
Some 2,000 edifices still stand. The rest suffered chiefly from human neglect and earthquakes.

Last severe quake
It occurred in 1975. Many structures that had survived the centuries were badly damaged - and one of the largest Bagan pagodas irretrievably collapsed into the river. Fortunately, archaeologists have restored many key structures.

Bagan's top three
The three most famous Bagan pagodas are the Thatbyinnyu, Ananda and Shwezigon Temples.

Thatbyinnyu
It's the tallest Bagan pagoda (high as a 17-story modern building).

Ananda
Though slightly shorter than Thatbyinnyu, it is one of the oldest yet best preserved Bagan pagodas. Four tall standing Buddha statues peacefully adorn its corners.

Shwezigon
This is the holiest of the Bagan pagodas. Its impressive gilded bell-shaped stupa houses relics of Buddha.

Location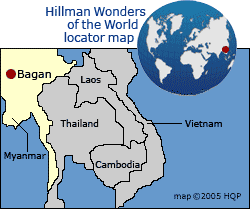 World's Top 100 Wonders
World's Top 1000 Wonders
Site map
My credentials
About my website and criteria
Reader testimonials