Canals of Venice
Travel tips you can trust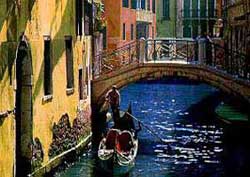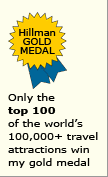 Why the
Canals of Venice
are special
The Venetian canals and their gondolas provide one of the world's most romantic experiences.
Canals of Venice
tips & insights

The romantic icon of
the Canals of Venice
It's clearly the gondola. Imagine gliding slowly down the narrow canals in a gondola on a moonlit night to musical accompaniment.

The Grand Canal
This is the broad, 3-kilometer (2-mile) long main water thoroughfare. The Grand Canal is lined with luxurious centuries-old palazzos with ornate Renaissance-style facades - and is spanned by the elaborately designed Rialto Bridge.

Getting around
The 150 canals of Venice are its streets - roads for land passenger vehicles are nonexistent. Everyone must travel by foot or boat, tourists and locals alike.

Walking
The chief and often the fastest means of transportation is the foot - thanks to the 400 pedestrian bridges that link Venice's many small islands.

Vaporetto
When distance is far, locals use the vaporetto (water bus) or the swift but expensive water taxi. Although Venetians once used gondolas extensively, they now leave this man-powered vessel for the tourists.

Origin of the
Canals of Venice
They date back to the 5th century when regional inhabitants built nascent Venice in a swampy, sparsely settled lagoon in order to escape the swords of the invading Barbarians.

Location in Italy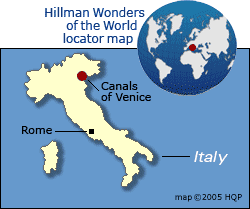 Read my other Italy pages
Wonders of Italy - Complete list
Italy wonder map
Basic Italian phrases
Italian cuisine
Best time to visit Rome

World's Top 100 Wonders
World's Top 1000 Wonders
Site map
My credentials
About my website and criteria
Reader testimonials