Li River Cruise
Travel tips you can trust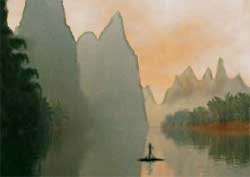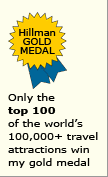 Why the
Li River Cruise
is special
The Li River boat trip is one of our planet's most stunningly beautiful journeys. The smooth water exquisitely mirrors a fairy-tale landscape of conical peaks reaching for the sky (see photo). These limestone peaks are the vestiges of eroded ancient sea beds.
Li River
tips and insights

Pronunciation
The word Li is pronounced lee.

Passing scenery
and activities
There's something interesting to see from your Li River cruise boat along the banks of almost every bend of the river. You view graceful bamboo groves, farmers tending rice paddies, and lumbering water buffalos pulling carts or cooling off in the river.

Fishermen
Another interesting sidelight is seeing fishermen gliding on the Li River on narrow bamboo rafts. Some use tethered cormorant birds to catch fish.

Mist
The Li River vista is particularly mystical when flowing mists weave themselves around the peaks. The vapor hides then exposes the peaks in moments of surprise.

Location in China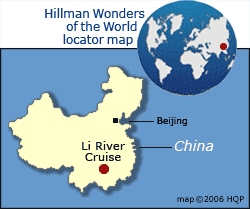 Learn More

for next Li River Cruise page
Know these China tips and insights
Wonders of China - Top 10 rankings
China Wonder location map
Chinese cuisine guide
Basic Chinese phrases with pronunciations

World's Top 100 Wonders
World's Top 1000 Wonders
Site map
My credentials
About my website and criteria
Reader testimonials