Santorini overview
Travel tips you can trust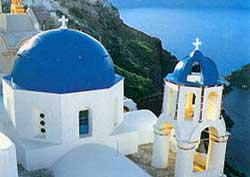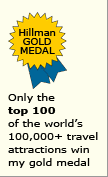 Why Santorini is special
Yes, it swarms with summer tourists, but the setting of this Greek Isle is so picturesque and geologically striking that you should visit Santorini on your first trip to Greece.
Santorini map
The two most
popular Santorini
cliff-perched villages

Travel memories
are made of this
The two white-washed villages listed below take root on the island's high steep volcano rim. They are immensely photogenic. Their views of sheer cliffs and the deep-blue bay are breathtaking.

Fira
It is the biggest, busiest and most touristed. Still, it has retained some of its alluring qualities.

Oia
This village is in northern Santorini. It appeals to those seeking a more peaceful and laid-back ambiance for their vacation in Greece.
Imeroviglia and Firostefani are also rim villages that attract tourists. They are located between Fira and Oia.
Popular Santorini
seaside villages

Kamari and Perissa
They are moderate-sized sea resort villages. They are less charming than the cliff-perching towns, but have wide beaches directly on the Aegean Sea.
Location in Greece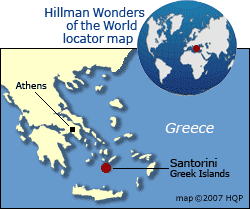 Learn more

for Santorini Overview - Page 2
Read my other
Santorini pages
Volcano - Brief history
Accommodation tips
More tips
Know my other
Greece tips and insights
Greece wonders - Top 10 rankings
Greece wonder map
Basic Greek phrases for travelers
Greek cuisine

World's Top 100 Wonders
World's Top 1000 Wonders
Site map
My credentials
About my website and criteria
Reader testimonials