Great Ocean Road
Travel tips you can trust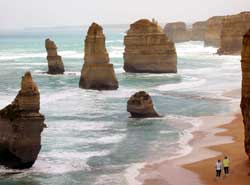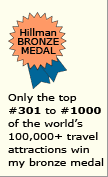 Why the
Great Ocean Road
is special
The Great Ocean Road hugs the southernmost tip of Australia for nearly 300 kilometers (180 miles). It is one of our planet's most scenic highways. You see bizarre natural rock towers jutting from the surf - and tall headland cliffs as high as 45 meters (150 feet).
Great Ocean Road
tips and insights

12 Apostles
By far the biggest "rock star" is the dramatic rock formation named the 12 Apostles (see photo). Now only 8 remain. Four had collapsed, one as recently as 2005.

Bay of Islands
This is another must-see rock formation group on the Great Ocean Road in Australia.

How they were formed
The rock stacks were created when waves and winds sculpted the limestone over eons of time. The erosion process continues.

Shipwreck Coasat
The western part of the Great Ocean Drive is aptly called the "Shipwreck Coast". Stormy winter seas claimed over 100 large sailing ships and countless lives in the 1800s.

London Arch
It is also famous, but it lost some of its appeal when it partially crumbled in 1990.

Location in Australia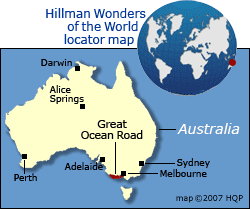 Learn More

for Great Ocean Road - Page 2
Learn my other
Australian tips and insights
Wonders of Australia - Top 10 rankings
Australian Wonders - Map
Learn Australian slang
Australian Cuisine

World's Top 100 Wonders
World's Top 1000 Wonders
Site map
My credentials
About my website and criteria
Reader testimonials