The Olgas / Kata Tjura
Travel tips you can trust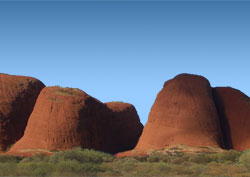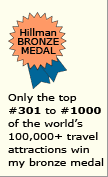 Why
The Olgas
are special
The Olgas (Kata Tjuta) of Australia thrust up from the desert plain, creating a cluster of 36 tall, steep-sided rusty-red domes tightly separated by deep gorges and narrow valleys.
The Olgas
tips and insights

Taller than they seem
They are much higher than they appear in photographs. The tallest rises 348 meters (1148 feet) above the flat desert and is appreciably higher than its regional neighbor, Ayers Rock.

How they were carved
The Olgas' smooth surfaces were sculpted by winds over millions of years.

Colorization
They are situated about 50 kilometers (30 miles) west of Ayers Rock in Australia. Like the latter, The Olgas vividly change colors as the day passes. At sunset, the rocks become glowing orange-tinted red. Nature puts on a colorful show at sunrise, too.

Holy
Also like Ayers Rock, The Olgas are sacred to the local Anangu Aborigines - and many visitors sense that spirituality.

When to go
The best seasons for visiting The Olgas are the austral spring (September to November ) and fall (March to May). Temperatures top 40°C (104°F) in the summer (December to February) and drop below freezing in the winter (June to August).

Location in Australia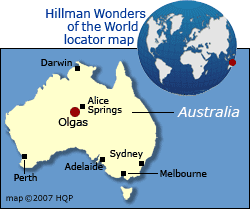 Learn More

for The Olgas - Page 2
Learn my other
Australian tips and insights
Wonders of Australia - Top 10 rankings
Australian Wonders - Map
Learn Australian slang
Australian Cuisine

World's Top 100 Wonders
World's Top 1000 Wonders
Site map
My credentials
About my website and criteria
Reader testimonials