More Lombok
tips & insights

Other Lombok
destinations
Visitors heading to Lombok's southern coast should visit the traditional Sasak fishing villages. Surfers will relish Lombok's Kuta Beach (far less crowded and commercialized than its namesake, Bali's Kuta Beach).

Lombok
accommodations
Comfort-seeking tourists can enjoy Lombok's luxury resorts, ideal for unwinding. The Sheraton is directly on a palm-fringed, white-sand beach front in Senggigi, the island's tourism epi-center. The more isolated and upscale Oberoi resort is a 45-minute drive to the north, but lacks an adjacent beach front.
Cannot afford the pricey track? Lombok has accommodations to suit all budgets.

Shopping
You can bargain for the wares in the craft villages. Best bets in Lombok: pottery, basketry and weaving.

Climbing
In-shape hikers climb Mt. Rinjani, an active volcano (it last erupted about five years ago). At 3726 meters (13,250 feet), Mt. Rinjani is Indonesia's second highest peak and dominates Lombok's northern landscape. The view from the top is inspiring. Plan on two or three days for this trek. Hire a professional guide.
Learn More

for Lombok Island - Page 1
Top 5 islands
for travelers near Bali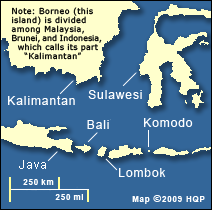 Read my Bali pages


Rice terraces


Dance & music


Arts & craft


Temples


Ubud


Sports


Luxury resorts


Kuta


Food


Beaches

Bali tip sheet
Bali attraction map
Best 5 nearby islands

World's Top 100 Wonders
World's Top 1000 Wonders
Site map
My credentials
About my website and criteria
Reader testimonials