Australian and
New Zealand cruises
Page 3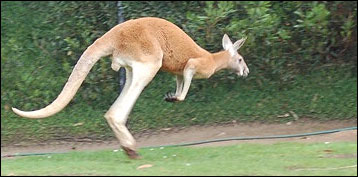 More tips and insights on
Australian and New Zealand cruises

The two basic types of
Australian / New Zealand
itineraries
Listed in order of popularity:
All-Australian
Only Australian ports are visited. Sydney is usually the home port.
Australian and New Zealand
Cruise begins and ends in Australia (normally Sydney) and visits Tasmania. This cruise focuses mainly on New Zealand destinations.

Cruise length
Cruises range from several days
(such as Sydney to Tasmania) to month-long (circumnavigating Australia).

More pointers

Darwin is the closest major cruise port to some of my recommended destinations in Western Australia and the Northern Territory.

Some round-Australia cruises tag enchanting Bali in Indonesia into their itineraries.

Australia's most famous wild animals:
Dingo
Kangaroo
Koala bear
Saltwater crocodile
Tasmanian devil
Wallaby

Because the New Zealand's South Island fjord area is far south, it can sometimes be chilly even in summertime. Also be aware that this area can become quite windy, enough to cancel your cruise ship's scheduled visit into a fjord.
Learn More

for Austrlian/New Zealand page 1

FOR Austrlian/New Zealand page 2
Learn these
cruise tips
Best cruise lines by category
29 cruise lines - descriptions
Top 10 destinations
Cabin selection
Cruise costs
Booking advice
Shore excursions
Cruise pros & cons
Cruise dining insights
Family cruising
Cruise etiquette
Ship communications
Cruise industry - facts
More cruise tips/insights
Cruise Lines International Association

World's Top 100 Wonders
World's Top 1000 Wonders
Site map
My credentials
About my website and criteria
Reader testimonials