Australian &
New Zealand cruises
page 2

When to go
The best cruising weather period is December to mid-March. The lease desirable months span June to September.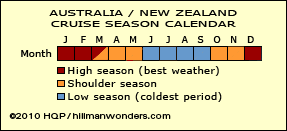 Keep in mind:

The four seasons in Australia and New Zealand are the exact reverse of those in Europe and North America. When it's cold and wintry in Paris, it's warm and summery in Sydney.

Temperatures in northern Australia will always be noticeably warmer than in the south. On the same day, it could be pleasantly mild in Sidney but scorching in the tropical north.

Best New Zealand attractions
For either pre/post cruise trips or shore excursions on North Island:

Rotorua (geysers & mud pools)

Tauranga Historic Villages

Waitomo Glowworm Caves
On South Island:

Fjords (includes Milford Sound)

Best Australian coast for cruising
The winner:

East Coast
Boasts Sydney and the Great Barrier Reef.

North Coast
Too hot.

West Coast
Lacks sufficient sightseeing appeal.

South Coast
Seas are sometimes rough
Learn More

for Austrlian/New Zealand page 1

FOR Austrlian/New Zealand page 3
Learn these
cruise tips
Best cruise lines by category
29 cruise lines - descriptions
Top 10 destinations
Cabin selection
Cruise costs
Booking advice
Shore excursions
Cruise pros & cons
Cruise dining insights
Family cruising
Cruise etiquette
Ship communications
Cruise industry - facts
More cruise tips/insights
Cruise Lines International Association

World's Top 100 Wonders
World's Top 1000 Wonders
Site map
My credentials
About my website and criteria
Reader testimonials