Karnak Temple
tips you can trust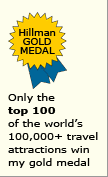 Why Karnak
is special
---
The Temple of Karnak in Luxor was the spiritual center of the Egyptians. It is enormous - the world's three largest cathedrals combined would fit into it.
---
Karnak
tips & insights
---
Construction
It took millennia to build and enhance the massive Karnak Temple. However, most of the work on Karnak Temple was done by the pharaohs of the New Kingdom (1570-1100 BC).
---
Karnak's most imposing element
The 3,000-plus-year-old Great Hypostyle Hall inside the Temple of Amon-Ra amazed me. Consider:
Size
The Great Hypostyle room is larger than a football field and is easily one of the grandest spaces ever erected.
Columns
The Great Hypostyle's forest of 134 rocket-size columns (many still stand) dwarf Karnak Temple visitors.
Ambiance
These columns once supported a high stone-slab roof that kept light out, creating a darkish ambiance that added to the mystique of the ceremonial processions of pharaohs and high priests.
---
Another Karnak jewel
The Second Pylon (see photo) served as a pageantry gate leading to the Great Hypostyle Hall - and as a barricade to unauthorized mortals (only the elite could enter).
---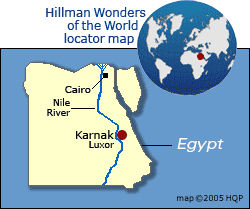 Egypt wonders - Top 10 rankings
---

---