Paul Gauguin cruise
tips for lovers
Honeymooners
+ Anniversary celebrants
+ Other amorous couples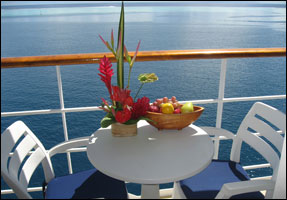 Enhancing
the romance -
tips & insights

Balcony
Book a cabin on the Paul Gauguin cruise ship with a balcony to share intimate moments.

Sunsets
Enjoy romantic sunset cocktails at a candlelit table on La Palette's outdoor deck. The soft live combo music wafting from the indoor bar adds to the mood.

Starlight
You may wish to linger awhile at La Palette after the sunset. The table is candlelit and, because you are in the remote tropics, the stars shine brilliantly.

Full moon
Time your Paul Gauguin romantic cruise to coincide with a full moon (consult a moon-chart calendar on the internet).

Secluded restaurant dining
Dine at night at one of the outdoor tables on the deck that lines La Veranda restaurant. You will have the La Veranda menu and service, but with privacy.

Dining with others
Enjoy the company of others and make new friends. Ask the restaurant maitre d' to sit you at a large table with other passengers. Convivial table conversation usually begins.

Personal shore excursion
Let the Travel Concierge Desk arrange a snorkeling or moonlight sailing outing for two. They can also arrange a private candlelit dinner on a tranquil beach.

Symbolic wedding
Attending this Polynesian ceremony is a good way to meet fellow honeymooners and anniversary celebrants. I briefly describe this event in my "Top 5 Experiences - Onboard" web page.

Getting married
You can say "I do" (or officially renew your vows) during the cruise. An affiliate of the cruise line will custom design memorable onboard and shore events for you and your wedding party.
Learn my other
Paul Gauguin cruise tips & insights
Why the Paul Gauguin is special
Not right for you?
Top 5 experiences - Onboard
Top 5 experiences - Shore
Special tips for lovers
Pre- and post-cruise resorts
Dinner menu selections
Itinerary maps
Deck plans
More tips & insights
Click Paul Gauguin for its website.

World's Top 100 Wonders
World's Top 1000 Wonders
Site map
My credentials
About my website and criteria
Reader testimonials