Paul Gauguin pre- and
post-cruise stays in an
over-water bungalow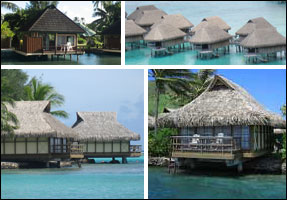 Tips & insights
on romantic
over-water bungalows
Extend your romantic experience by staying in an over-water bungalow for one or more days before or after the cruise. I prefer the pre-cruise stay because it gives you a chance to conquer jet lag before the cruise begins.

Over-water bungalow pointers

Booking
You can book an over-water bungalow directly with the resort - or with your travel agent when you book your cruise.

Value of a cruise package
Usually, you can save money by purchasing your pre- or post-cruise over-water accommodations as part of the overall cruise package.

Best all-around resort
with over-water bungalows
My criteria are location, condition, service, food, entertainment, and watersports.

Inter-Continental Moorea
It has 30 over-water bungalows, an attractive landscaped setting, a white sand beach, a large fresh-water pool, a choice of dining venues, and a marina offering a variety of watersports. As a bonus, you have instant access to the picturesque tropical scenery around Moorea Island.
Learn More

for over-water bungalows - Page 2
Learn my other
Paul Gauguin cruise tips & insights
Why the Paul Gauguin is special
Not right for you?
Top 5 experiences - Onboard
Top 5 experiences - Shore
Special tips for lovers
Pre- and post-cruise resorts
Dinner menu selections
Itinerary maps
Deck plans
More tips & insights
Click Paul Gauguin for its website.

World's Top 100 Wonders
World's Top 1000 Wonders
Site map
My credentials
About my website and criteria
Reader testimonials