Cassoulet
recipe
peasant dish of

France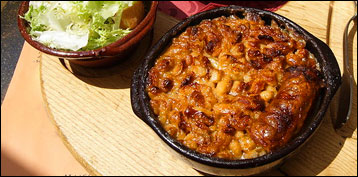 Cassoulet
ingredients
Servings: 8
---
Dried white beans
900 grams or 2 pounds
Duckling
2 kilogram or 4 pound bird
Fresh pork shoulder
500 grams or 1 pound
Chopped white onions
25 centiliters or 1 cup
Minced garlic
30 milliliters or 2 tablespoons
Chopped tomatoes
25 centiliters or 1 cup
Dry white wine
25 centiliters or 1 cup
Lemon juice
50 milliliters or 3 tablespoons
Bay leaves
2 medium size
Thyme
5 milliliters or 1 teaspoon
Ground sage
5 milliliters or 1 teaspoon
Ground cloves
1 milliliter or 1/4 teaspoon
Chopped fresh parsley
12 centiliters or 1/2 cup
Ground black pepper
2 milliliters or 1/2 teaspoon
Unseasoned chicken stock
5 deciliters or 2 cups
Pork sausage
Firm and garlicky
500 grams or 1 pound
Well-smoked boneless ham
5 deciliters or 2 cups
Fatback
250 grams or 1/2 pound
Unsalted butter
30 milliliters or 2 tablespoons
Bread crumbs
Coarse and unseasoned
25 centiliters or 1 cup
Salt to taste
See step 12
---
Cassoulet
cooking steps
---

Spread the beans, one layer at a time, on a large, flat platter. Look for and remove any foreign substances, such as stones.

Place the beans in a large stainless steel, glass, or enamel bowl. Add enough cold tap water to cover them by 5 to 8 centimeters (or 2 to 3 inches). Soak overnight, changing the water at least once.

Cut up the duckling into eight pieces and the pork into 1 1/2 centimeter (or 1/2 inch) cubes. Cut up the excess fat of the duckling and pork and render it in a 7 to 8 liter (or 7 to 8 quart) casserole over moderate heat. In several batches, sauté the duckling and pork for about 5 minutes, or until each piece is lightly brown. Transfer the pieces to a warm platter.

Add the onions to the pan and reduce the heat to low to moderate. Sauté the onions for 2 minutes, stirring frequently.

Add the garlic and sauté for 1 minute.

Add the tomatoes, wine, lemon juice, bay leaves, thyme, sage, cloves, parsley, and pepper. Stir well. Gently simmer the mixture, uncovered, for 30 minutes, stirring occasionally.

Preheat your oven to 150°C or 300°F.
Discard the bay leaves. Drain the beans and add them to the pot. Also add the duckling and pork from the platter, as well as the chicken stock.
Slice the sausage into 1/2 centimeter or 1/4 inch thick rounds. Cut the ham into 1 1/2 centimeter (or 1/2 inch) cubes and the fatback into 1 centimeter or 1/4 inch cubes. Stir these ingredients into the casserole.

Cover the casserole and bake it in the middle of the oven for 2 1/2 hours. Stir the preparation every hour.

Melt the butter in a medium-sized skillet over low to moderate heat. When the foam of the butter begins to subside, add the bread crumbs. Sauté them for 3 minutes, or until they become lightly brown.

Remove the casserole from the oven. Stir the ingredients. Taste for salt. Stir in the needed salt (the quantity you add will mainly depend upon the inherent saltiness of the sausage and ham - you'll probably need about 2 milliliters or 1/2 teaspoon). Layer the bread crumbs over the top. Return the casserole to the oven, raise the temperature to 160°C or 325°F and bake, uncovered, for 30 minutes.

Remove the casserole from the oven. Push the crust down into the bean and meat mixture. Serve promptly.
---



---
Also learn my recipes,
tips & insights of these
famous peasant dishes
Brazil - Vatapa
France - Cassoulet
China - Cha Chiang Mein
Czech Republic - Houskove Knedliky
Indonesia - Nasi Goreng
India - Roghan Josh
Italy - Osso Buco
Japan - Oyako Donburi
Mexico - Huevos Rancheros
Morocco - Couscous
Spain - Arroz Con Pollo
Thailand - Tom Yam Kung
Turkey - Yalanci Dolma
---

Learn what peasant cuisine is and is not
Top 10 world cuisines - Candid rankings


World's Top 100 Wonders

World's Top 1000 Wonders

Site map
---

---
---