French Polynesia
map and advice
Travel tips you can trust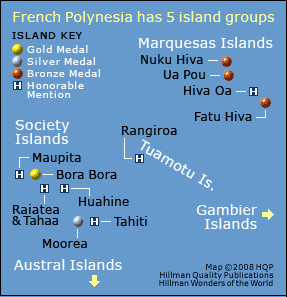 Many of the Polynesia medal winners are in French Polynesia, a territory of France.
My map locates the five French Polynesia island groups - and the islands that either won a Hillman medal or made my honorable mention list.
French Polynesia advice

Which Hillman Wonders
should I visit?
The five Hillman Wonder medals in French Polynesia have diverse offerings. Which is best for you? Here are two questions that will help you make the right choice.

Do you desire a
well-developed
tourism infrastructure?
If you want, for example, upscale resorts, lively clubs, trendy water-sports, then click these links to learn about these wonders:

Do you crave a
laid-back, less touristy,
more adventurous
French Polynesia?
Then click these links:

What about Tahiti?
Although it's French Polynesia's most world famous island, it is hardly its best. Tahiti earns my honorable mention only because of some of its Polynesian cultural performances are exhilarating. If none meets your interests or schedule, I suggest you do not stay overnight, unless air or cruise connections make it necessary.
Yes, Tahiti has a few luxury resorts, but you will likely experience a more moving Polynesian experience staying at their counterparts on Moorea, Bora Bora, and other islands.
Learn More

for next French Polynesia page
More Polynesia tips and insights
French Polynesia
French Polynesia - Intro
Bora Bora
Moorea
Nuku Hiva
Fatu Hiva
Ua Pou
Hawaii
Hawaii Volcanoes NP
Na Pali Coast
Waimea Canyon
Other Polynesian areas
Easter Island
Aitutaki Cook Islands
Upolu Western Samoa
Vava'u Tonga
More Polynesia pages
Polynesia wonder map
French Polynesia map & tips
Interesting facts and tidbits
Polynesia photo gallery
Gauguin painting gallery

World's Top 100 Wonders
World's Top 1000 Wonders
Site map
My credentials
About my website and criteria
Reader testimonials