Bermuda cruise tips
Cruise pointers you can trust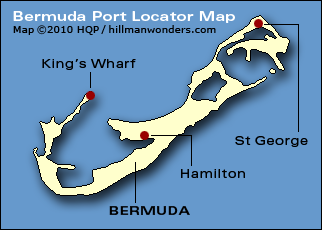 Bermuda cruise
port rankings

St George
Its quaint old town area has narrow streets, small shops, and understated signage. The dusk-time Candlelight Walking Tour is fun and educational.

Hamilton
This city is Bermuda's capital and commercial center. Hamilton also boasts the island's best dining and shopping.

King's Wharf
It's by far the least interesting of the cruise ports. And it's located far from Bermuda's major tourism attractions, the ones you came to see and experience.
When to go
on a Bermuda cruise
The Bermuda tourism season runs from mid-April to mid-October. Some periods are better than others.
April - It can be nippy.
May - This is the best overall month. Flowers bloom everywhere. And it's the traditional month for honeymooning.
Early June - Come now if you want to avoid the summer-long family-tourism scene.
Mid June through August - Peak visitor season. Crowds.
September - Daylight sightseeing hours grow shorter and temperatures are a bit colder.
October - Too cold for those seeking an "island vacation".
Also factor in the chances of your vacation being spoiled by a hurricane (see next item).
Bermuda cruise
hurricane season
Mid-June to late November - This is the early hurricane season. The odds of encountering a hurricane increases as the season progresses.
August to October - This is the peak (worst) period.
Be aware - If a hurricane hits or comes close to the island, your cruise ship's itinerary could be altered at the last moment. For example, your ship would visit New England and Canadian Maritime Province ports instead of Bermuda. Even if your boat could sail to this island, you would likely experience rough seas in the crossing.

Helpful Bermuda cruise pages
Port rankings + When to go
Getting there and around
More tips & insights
More tips & insights (cont)

World's Top 100 Wonders
World's Top 1000 Wonders
Site map
My credentials
About my website and criteria
Reader testimonials