Best time to visit
Barcelona
advice you can trust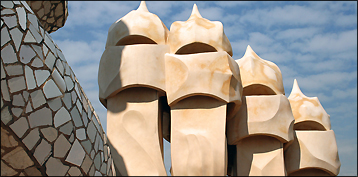 Barcelona -
The best and worst
times to visit
Insights you need to know

Best times
May and June
Enjoy pleasant temperatures and usually sun-filled days. Summer's high heat and humidity doesn't rear its ugly head until about mid June.
September and October
Tourist crowds have thinned (except for the La Mercé festival described below). The overall best period is between mid September and mid October.

Least desirable times
July and August
Barcelona becomes uncomfortably hot and humid (especially in August). And it's the peak of the tourism year, so count on painfully long lines for museums and other popular attractions.
November to February.
Daylight sightseeing hours are short. Expect chilly (but not bitterly cold) weather. Be prepared for the possibility of cold showers that could hamper your outdoor sightseeing.

Another insight
Le Mercé festival
You'll encounter crushing crowds but the annual festival La Mercé is a fun must. There are colorful parades featuring giant paper maché figures. Other highlights include concerts, fireworks, and fire-breathing dragons. Time: Late September.

Know when to go
and not go to other
travel destinations
Click More best and least desirable times
Learn my other
Spain tips & insights
Wonders of Spain - Top 10 rankings
Spain wonder map
Basic Spanish phrases
Spanish cuisine

Barcelona photo by Bert Kaufmann - CC BY 2.0


World's Top 100 Wonders
World's Top 1000 Wonders
Site map
My credentials
About my website and criteria
Reader testimonials