Spanish Cuisine
Intro
Food tips you can trust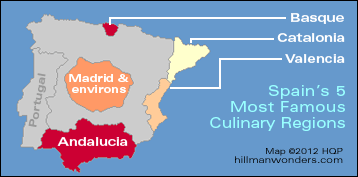 Spain's five famous
regional cuisines
Click the blue links below to read my candid pages on the five most famous Spanish regional cuisines:
Andalucia
Basque
Catalonia
Madrid and environs
Valencia
Spanish cuisine
tips and insights

Seasoning
Spanish cooks in general use few assertive seasonings, with the exception of garlic.

Most popular meat
Most Spaniards are not great beef consumers. Lean, rangy hogs yielding lean meat and sausage are more popular than beef cattle, which are more expensive to raise in Spain's relatively dry climate.

Seafood
However, this limited selection of meat is partially offset by the country's abundant fresh seafood, which in turn is supplemented by dried cod.

Olive oil
Spanish cooks greatly prefer olive oil to butter or other fats.

Tapas
A popular custom is to drop by a bar on the way home for a snack of tapas. They are, generally speaking, hors d'oeuvres. Tapas range from the simple combination of olives and almonds to an elaborate spread of hot and cold dishes. Seafood tapas are especially popular.
Also learn these Spanish
food tips and insights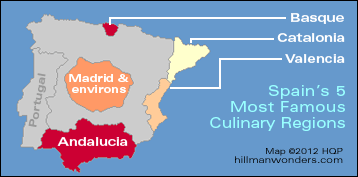 Click blue links to see their pages
Andalucia
Basque
Catalonia
Madrid & environs
Valencia
Top runners-up
Spanish cuisine - Intro


Rankings
Peasant recipes
World wonders
Also read
Site map
About me and my credentials
About my website
Reader testimonials
Email me your opinion